I am a passionate singer and have sung all my life. I love facilitating music-making with groups, particularly when people are new to singing. I am convinced of music's power to inspire, uplift and promote connections on an individual and communal level. Singing is at the heart of everything I do, whether it be supporting new mums to soothe and connect with their babies, encouraging people who are inhibited about their singing voices to sing out, having some fun and laughter through singing with cancer patients or leading community and office choirs.
I have taught music in primary schools, worked for Sing Up and run music classes for under 5s, but my focus is now on working with adults. I worked as a doctor in the NHS before deciding to follow Howard Thurman's advice: 'Don't ask yourself what the world needs. Ask yourself what makes you come alive and then go do that. Because what the world needs is people who have come alive.'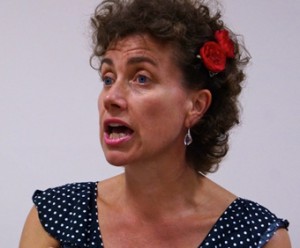 "Absolutely delightful! Julie has a great talent for making a disparate group of people feel relaxed & thus able to sing in harmony – amazing."
– JS, The Dawn Chorus
"It was really uplifting to sing with my community. You are very skilled at getting people to make a lovely sound so quickly." – SC, Exeter Street Hall Fundraising event.
Click here to read more testimonials.
Get in touch with Julie.